Australian Computer Society
Media Release
ACS President Backs Calls for Local WWW Consortium Office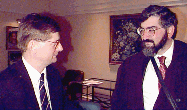 Tuesday, 16 July 1996 - Canberra - A visiting Internet expert has called for a local office of the World Wide Web Consortium to be established in Australia.
Professor Jim Miller, of MIT's Lab for Computer Sciences, today met with senior officials from federal agencies and the IT industry, including the Australian Computer Society, in Canberra.
A member of the committee which prepared the PICS (Platform for Internet Content Selection) standard, Professor Miller believes the establishment of an Australian office for the WWW Consortium would help to encourage web technology development throughout the region.
The PICS standard was recommended by the Australian Broadcasting Authority's recent report on Internet regulation and computer pornography.
Rather than pushing for a criminal law regime to deal with on-line content issues, the ABA has recommended a self-regulatory framework (as proposed by the ACS) for service providers, with a content labelling scheme based on PICS.
ACS President, Tom Worthington, who met with Professor Miller, expressed support for PICS but pointed out, "PICS will be useful, but cannot replace parental supervision of children's computer use.
"Like the 'V-chip' for regulating television violence, PICS represents a valuable tool to enable parents to exercise choice and guidance, but technology is not a substitute for parents keeping an eye on what their children are up to."
Mr Worthington welcomed the rejection last week by the Standing Committee of Attorneys-General, of Internet regulation proposals from NSW. He has called for further consultation with the industry and the community.
The ACS will be hosting meetings of international experts on Internet regulation and discussing proposals for better world Internet coordination, with representatives from 65 nations, at the 14th World Computer Congress, known as IFIP 96, in Canberra this September.
Further detail on Internet regulation, the World Wide Web Consortium a digital photograph of this morning's meeting are available at: http://www.tomw.net.au/twadd15.htm
ENDS
Media Enquiries:
Tom Worthington, President, Australian Computer Society Inc, GPO Box 446, Canberra ACT 2601, Fax: +61 6 2496419, Email: tom.worthington@tomw.net.au or http://www.tomw.net.au
Caroline New, ACS Public Relations Consultant, Tel: +61 2 630 2108, Mobile: 041 188 9456, Fax: +61 2 630 1685 Email: cnew@acslink.net.au
---
See also: